Commercial and industrial businesses got a dividend in 2016 — cheaper wholesale electricity prices from a year earlier, ranging from 24% less to 64% in California and New England respectively.
"Monthly wholesale prices for the rest of 2016 were slightly below 2015 prices and generally averaged between $20 and $45 per megawatthour (MWh)," says the US Energy Information Administration. "The primary driver of the low wholesale electricity prices was the sustained low cost of natural gas, which is the fuel that often determines the marginal generation cost in most power markets. The low cost of natural gas also encouraged increased use of the fuel for U.S. power generation in 2016."
The cost of natural gas delivered to power generators averaged $2.78 per million British thermal unit (Btu) during the first 10 months of 2016 (the latest data available), says the energy agency. That is 17% cheaper than the average price during the same period in 2015.
Abundant natural gas supplies is one reason. So is milder winter weather in 2016, it adds. 2015 brought with it  extreme cold, and $138 per MWh. That's compared to $34 in 2016.
"In addition to keeping wholesale power prices relatively stable in 2016, the low cost of natural gas contributed to a shift towards increased natural gas-fired electricity generation, largely at the expense of coal-fired generation," says the agency. "The amount of electricity generation fueled by natural gas between January and October 2016 was 6% higher than generation during the same period in 2015. In contrast, coal-fired electricity generation during the first 10 months of 2016 was down 12% compared with the same period in 2015."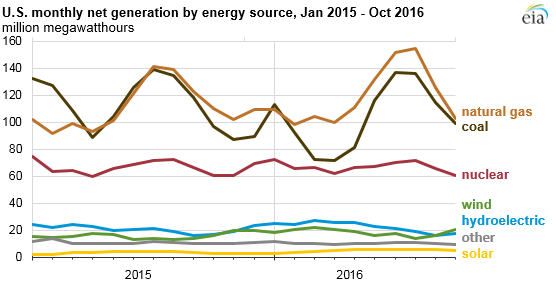 Natural gas, it adds, was the primary fuel used to generate electricity in 2016. That marks the first time this has happened, as it overtook coal in April 2015. Specifically, it accounted for 34% of the total annual utility-scale power generation compared with 30% for coal.
---
"Electricity generating facilities were scheduled to add about 24 gigawatts (GW) of utility-scale capacity in 2016, more than 90% of which were natural gas, solar, and wind additions," says EIA. "Coal units accounted for most retirements during 2016, with more than 7 GW of coal-fired capacity retired during the year, equivalent to 2.5% of existing coal capacity in place at the end of 2015."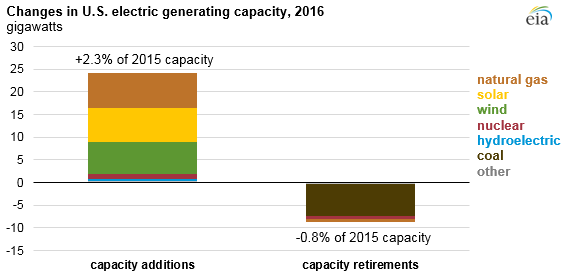 Source:
U.S. Energy Information Administration,
Form EIA-860M
survey
---