The transportation sector is now putting out more carbon dioxide emissions than does the power sector that generates electricity. That's according to the monthly review of the US Energy Information Administration, which says that carbon releases from the transportation sector reached 1,893 million metric tons (MMmt) from October 2015 through September 2016 while electric power sector carbon emissions hit 1,803 MMmt over the same time period.
"On a 12-month rolling total basis, electric power sector CO2 emissions are now regularly below transportation sector CO2 emissions for the first time since the late 1970s. CO2 emissions from electric power have been trending lower since 2007," says the agency. It adds that the summer months are among the most pollutive, given that more driving occurs and more air conditioners are blowing.
To put it in perspective, the electric power sector makes up a larger share of total U.S. energy consumption than the transportation sector, it says. But it emphasizes that the carbon releases from electric power plants are less than that of the transport sector "because the carbon intensity of the power sector has fallen much faster than the carbon intensity of the transportation sector."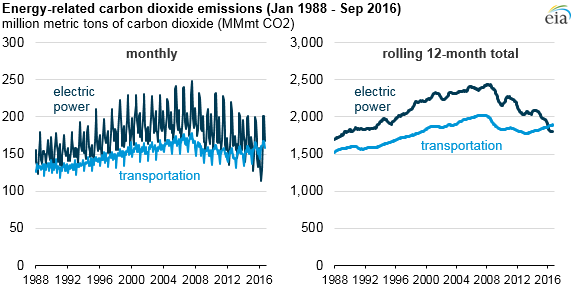 ---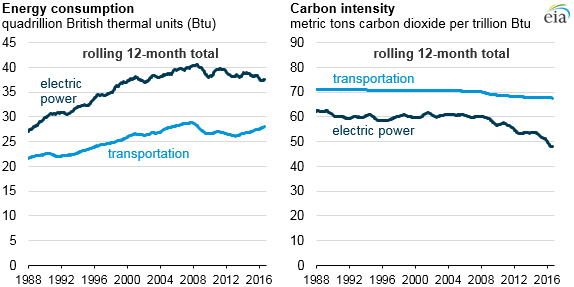 ---
The biggest culprit on the power side is coal-fired generation, the agency says. The average rate of carbon emitted from combusting coal ranges from 206 to 229 pounds per million British thermal units (lbs CO2/MMBtu), depending on the type of coal consumed, it adds.
Natural gas is replacing coal, which is helping a lot: The combustion of natural gas emits on average 117 lbs CO2/MMBtu. Natural gas electric generators also tend to be more efficient than coal generators, because they require less fuel to generate electricity, the agency says. Coal now fuels 31% of the US power plants while natural gas makes up 34%.
Emissions from the transportation sector, meanwhile come most from motor gasoline, distillate fuel oil, and jet fuel, which have carbon intensities lower than coal but higher than natural gas, the agency says. In the 12 months from October 2015 through September 2016, motor gasoline represented 60% of the total emissions from the transportation sector, while 23% was from distillate fuel oil and 12% was from jet fuel, it adds.